Do you know what phrase I really hate? "My dogs are barking". Though right now, suddenly I understand what it means. My retail job, the one with the raw concrete cement floor, is
fricking killing my feet
, not to mention my poor ankles that need about 30 minutes of stretching after each shift in order to feel slightly better. The floor is negatively affecting my running and sadly, my love of/ability to wear heels. Even usually-friendly wedges make my toes shrivel and die. I can currently make it through my 9-hour shifts in only one pair of shoes: patent mary-jane flats with a Dr. Scholl's gel arch support. But alas, they are falling apart after a month of continuous abuse (maybe because they're from payless). I have been on a constant quest for comfy flats with these qualities: round toe, neutral color, substantial sole and some padding/arch support. Well my friends, such a shoe does not exist (in stores near me, at least). Looking online is easy, but you never know exactly how cushiony a shoe will be (since not ever style has customer reviews).
Here are some I'm willing to try:
I want these Jeffrey Campbell ones in yellow, $59 at
BarefootTess
DKNY, $135 at
shopbop
Charlotte Ronson, $125 at
shopbop
French Sole, $99 at
Zappos
These Michael Kors flats look cozy, like a cross between a ballet flat & a driving moc,
$99 at zappos
Don't know how comfy these Two Lips shoes would be, but they are super cute, $73 at
zappos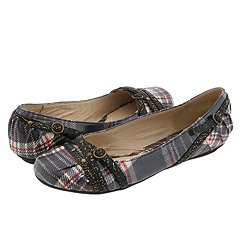 These are a little pricier than I usually am willing to spend on flats, but my wellbeing is at stake. Good quality really makes the difference in comfort and endurance. For me, the worst comfort brands (in order from worse to WORST are: Payless, Nine West, Steve Madden, Target). You don't need to spend $300 for good flats, but around $100 will usually ensure some good craftsmanship. In the next few days, I need to narrow down these choices and order a couple pairs. Because if I have no success, I will be driven to buy out all the Ugg boots in the Orlando metro. But no matter how bad things get, no matter how much pain my feet endure, I will never look at nor touch a (barf)croc.
At the moment, it is time to celebrate that holiest of holy holidays, one of my favorite nights of the year: fall daylight savings. One glorious extra hour of sleep, and I'm going to celebrate by taking a steamy shower, slathering myself in coconut
body butter,
and nibbling on my first
Christmas Tree Cake
of the season. Happy daylight savings everyone.