I had a hair appointment today, so I spent part of yesterday browsing for a new look. When I typed the admittedly vague phrase "cool hair" into google, here are some gems that turned up:
yikes, dude. The scariest part? I've seen dudes who look pretty much like this...rednecks abound in the south.
I'm going to have to disagree wholeheartedly.
Ok, I can't even see hair here!
Again with the lack of hair!
Ummm?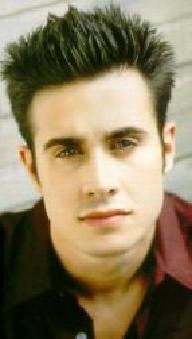 Finally, we have Freddie Prinze, his "cool hair" documented on a fan site called: "He's All That....and More". LOL!
What I was
hoping
to find was inspiration like the Anna Sui S/S 2008 runway:
I like the side-bangs and the use of color. I have long wanted to experiment with hair color (although maybe less dramatically) but after consulting with my hairdresser, we decided to do one more dark treatment before we add anything else (ah, the trials of going from blond to brunette).
So my hair isn't necessarily
cool
, it's just pretty classic and a little boring. But, if the google search I did is any indication, well then I don't want my hair to be "cool" anyway!
Anna Sui photos from Style.com