It has only been a couple months since I read Fashionista's declaration that
black nail polish is dead.
This hasn't stopped me from wearing my so-dark blue-it's-almost-black
Russian Navy from OPI,
but it is saddening to see how a polish chosen because it stands out has become so common.
I have never had long nails in my life (starting back when I had to keep them short for piano), but I still feel that short shiny nails are far superior to fake acrylics/French manicured/long pointy nails. This summer I have been wearing mostly clear polish, corals, oranges, or hot pinks, but I have kept my toes dark blue for the most part and still keep the
option
to wear dark polish on my hands.
Although I do hate when something I enjoy is
also
enjoyed by people (like the Lohans, LC, etc.) that I view as, well,
unsavory
, should I throw it out or keep on sticking with it? I think I'll stay with dark colors...as long as half the girls in my school aren't matching me, I'm okay.
To try some fun new almost-black (but not black up close), check out OPI's new line for this season:
La Collection De France.
I couldn't right-click the detail shots so you'll have to see it up close through the link. I am very interested in trying "You Don't Know Jacques!" "We'll Always Have Paris," and "Eiffel For This Color."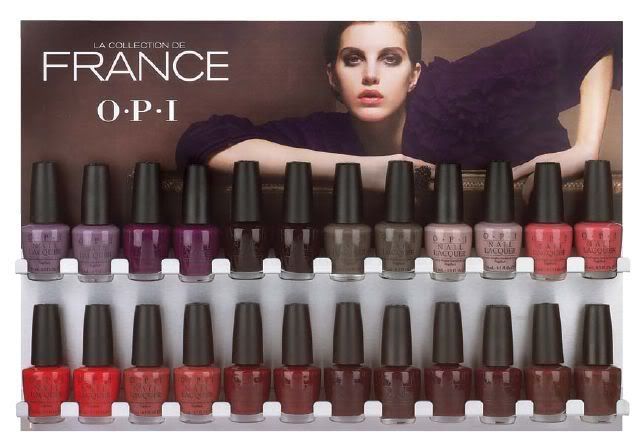 Will you still wear dark polish this fall?
Image from Polish Addict
.